Protect your business inside and outside your infrastructure with the Deloitte managed SOC services, on-site and hosted, integrating event monitoring and correlation with threat intelligence and a business-focused output
Speakers: Christos Vidakis, Principal, Risk Advisory | Santos Gonzalez Juan Antonio, Senior Manager, EMEA CyberSOC | Esposito Nicola, Product Senior Manager, EMEA Cybersoc
Christos is Principal in Information Technology Risk service line of Risk Advisory Department of Deloitte in Greece. He has more than twelve years of information systems security, auditing and technology experience, with special emphasis on Cyber Security and IT Control Assurance engagements.
Christos has directed numerous cyber security engagements guiding clients in preparedness, accurate and effectively response to security incidents, and assisting in taking preventative measures for the future. Christos has managed numerous forensic cyber investigation engagements including intrusion detection, security monitoring, evidence collection and analyses aiming to identify the root causes of the incident and to mitigate the risk of future security breaches.
Christos directs the IT External/Internal audits, directs and manages the technology integration aspects of financial statement audits, has designed and implemented information security management systems and has directed a number of security assessments and system implementations such as ISAE 3402, PCI/DSS, SOX 404 and ISO 27001.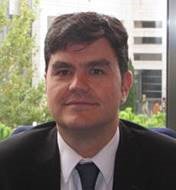 Juan Santos is a Senior Manager in the International business development team in EDC for Deloitte Risk Advisory. He has more than 10 year experience delivering-leading security services and executive offices in Spain and US. Areas of expertise include: Compliance and ISO 27001 consultant and auditor, Security Operation Center design, implementation and business development. Also as International role include create and develop the Executive Office in US for an International firm in technology advisory